Braniff, Inc or Braniff II (1984-1989)

Jay Pritzker, of Hyatt Hotels, was behind the reorganization of Braniff International and brought it out of Bankruptcy in December 1983 at the request of Captain Glenn Shoop and other former Braniff employees (Captain Jim Olsen was forming Sun Country Airlines at the same time). Pritzker had been a former Navy Pilot. When they brought it out of bankruptcy, they changed the name to "Dalfort Corporation." Dalfort Corporation, was really Braniff Airways, reorganized in Nevada. Braniff, Inc. was a new company started with the majority of the stock owned by Dalfort Corporation...It was Braniff Inc.'s parent company. In fact Dalfort Corporation, fell under another Corporation called Hyatt Air, which controlled several corporations.

Pop-Up view of The "man" behind Braniff, Inc.

Although Pritzker went on record saying he had never been involved in the aviation industry, he is shown on The Board of Directors of Continental Airlines in the 1961 and 1962 Annual Reports with none other than Harding Lawrence. Also, Pritzker elected Troy Post, the man who had hired Lawrence in 1965, to the "new" Dalfort/Braniff, Inc. 1984 Board of Directors.



Pop-Up Braniff II Founding Members Certificate.

HOWEVER, former Braniff pilot and one of Braniff's few Concorde pilots, Glenn P. Shoop, (see the "Concorde" area on this page for his signature on the inagural flight in 1979) was also elected to the new Braniff Board of Directors.

Braniff used the Lemmon Avenue base, originally built in 1957 for Braniff Airways, as its new headquarters. The selected 727-200s were flown over from D/FW airport to receive a new paint scheme of red, white, blue and grey. Many ex-Braniff Airways employees donated their time for free in refurbishing the 727s.

This included re-painting each aircraft, installing new carpeting, re-installing Braniff's leather seats which were already in most of the "ultra" sheme aircraft.



"Up and Running"

Click
Here for part of Braniff's two minute "Up and Running" promo.
(Film version will be on the new Braniff video
...see "B-Liner" page)

This audio file is "public domain" and may be downloaded for personal use. If you plan to post it on another website, we would appreciate the credit. Thanks.

On March 1, 1984, Braniff flew its first flight as Braniff, Inc. from Dallas/Fort Worth to New Orleans on N453BN. The second flight was Dallas to Houston (George W. Cearley, Jr. and Delta's Steve Caisse were on this flight) on N446BN. Both 727-227s. Braniff initially served 18 cities which were: Dallas/Fort Worth, New York/Newark, Philadelphia, Washington D.C., Miami, Detroit, Denver, New Orleans, Houston, Austin, San Antonio, Los Angeles, Las Vegas and San Francisco. They also flew Braniff's original four cities: Oklahoma City, Tulsa, Kansas City and Chicago. "The Braniff Terminal" at D/FW was used as the main HUB with 30 leased 727s. (Most from BRNF Liquidating Trust). The Company operated 170 daily departures.

Joe H. Mitchell, a great supporter of "The Braniff Pages" was made Manager of Administrations at D/FW. He also became president of the Dallas and Houston BIC (Braniff International Council) Clubs...a post formerly held by Harry E. McKillop. Although Mr. Mitchell only owned 100 token shares of the club. The B.I.C. clubs were necessary because liquor could only be sold through private clubs in Dallas and Houston at the time. Joe served as the liason between B.I.C. and the Texas Alcohol and Beverage Commision.

NOVEMBER 1984

Things started off sort of rocky for the new Braniff. In November, Braniff substanially reduced scheduled service, terminated leases on 10 of its 30 727s, and re-defined its role by focusing on long-haul routes at lower fares.

1985

This seemed to work, as Braniff announced a net income of $1.6 million on May 1st.

Also this year, "The Braniff Pages" Managing Director flew Braniff from Austin to Denver. The flight was extremely nice, but unfortunately it was almost empty.

1985 also saw expansion into Mexico, with flights to Mexico City and Acupulco. (making it, unofficially, Braniff International once again.)

1986

In March of 1986, Braniff's fiscal year ended with a positive net income of $23 million.

Also that year, Braniff joined other airlines listing on American Airlines SAABRE reservations system. However, there has been some debate (to this day) that SAABRE always favoured American's flights first even if another airline offered a lower fare.

1987

Braniff's short success was fleeting after March's reported $9 million loss.

This did not, however, stop Braniff from expanding. Braniff picked up (leases) 10 737-200s from Polaris leasing. These 737s had been owned by Western Airlines, and were sold to polaris by Delta after the Western - Delta merger. All the ex-Western machines had been manufactured in 1968 and 1969. By now, Braniff was flying 20 727-200s and 10 737-200s. A total of 30 aircraft.

In December 1987, Braniff looked at merging with Pan American World Airways, but the deal never went through. (Ed Acker, John Casey and Mary Wells-Lawrence were at Pan Am at the time...all members of the former Braniff Lawrence Group i.e. "Lawrencian Empire.")

1988

In January, Braniff signed a joint services agreement with commuter airline Florida Express which commenced using the Braniff name.

Four months later, in April, Braniff acquired Florida Express adding 24 new cities and new gates at its Kansas City and Orlando hubs.

THE BEGINNING OF THE END

In June, 1988 BIA-COR Holdings, Inc. - Core Group led by Jeffrey Chodorow (who would reform Braniff one more time in 1991 and steal the rest of the companies' assets) and Arthur Cohen bought Braniff from Dalfort Corporation. Scot Spencer also joined the team, who, as you will find out, was thrown in jail for his involvement in Braniff III. They borrowed LARGE sums of money to pay Pritzker and Post for the airline. A new management team was brought in, and Bill McGee was named Chairman, president and CEO. McGee was formerly with Piedmont Aviation, Inc. (Piedmont Airlines). Dalfort, led by Pritzker in 1988, still held a substantial stake in Braniff, Inc.

The new team placed an order for 12 new Fokker 100 aircraft. The Fokkers were meant to replace the leased BAC-111's which Braniff had been flying on shorter routes. (the F100s were never delivered due partly to back up orders from American Airlines and US Airways), and announced a 52% increase in flights from Kansas City after Eastern Airlines decides to abandon Kansas City as a hub leaving a number of gates open for Braniff.

In October, they made it official by consummating a merger with BIA Acquisitions. In December, Braniff placed orders for 50 new Airbus A320-200 aircraft from GPA Leasing in Ireland, with an option for 50 more. A total of 100 aircraft.

In 1988, the main HUB of Braniff became Kansas City in the Fall, and D/FW was reduced to two gates (17 & 18 in Terminal 2W). Although, it still maintained "mini-hub" status at D/FW with 9 cities served. The other gates were sold to American Airlines or leased to Northwest, United, Mexicana and Pan Am. The airline was now flying to over 45 cities with three hubs: Kansas City, Orlando and D/FW.

1989 - THE LAST YEAR

In December 1988 and all through 1989, Braniff leased eleven more Boeing 737-200s from American Airlines (which they had received through the Air California merger), BIA-COR and Polaris V leasing. One 737, leased from American, was a 737-200A.

Florida Express ceased using the name Florida Express, and all assets became property of Braniff, Inc. Braniff announced acquisition of 28 jet parking positions at Kansas City.

In April, Braniff was flying to 40 locations, 39 domestic, one in the Bahamas. It had a fleet of 57 aircraft ( 24 B727-200s, 14 B737-200s and 18 BAC-111s)

Through the rest of the summer, Braniff went on a "loan spree" borrowing money from: Singer-link, Bank of America, Airbus Service Company, Inc., European American Bank, GPA Ireland and Columbia Savings and Loan. Chodorow and Cohen, allegedly, made off with this money sealing Braniff II's fate. The first Airbus A320 was delivered in July, 1989. N901BN would be only one of two A320's Braniff would fly. Braniff took delivery of four more A320s in September.
For the second time, Braniff filed for Chapter 11 on September 28th.



Pop-Up Braniff II 1989 Ad.



Braniff resumed service on October 1st for a short charter career using its 727s. It flew to 11 cities (including D/FW).

Braniff finally called it quits at the end of December 1989. A buyer is sought, but never found. Braniff, Inc. decided to liquidate all assets in three seperate auctions.



Pop-Up Fleet List of Braniff's II's fleet.



Braniff Inc. (Braniff II) stayed open until 1998 with Joe Mitchell and Heather Wyman handling the liquidation of all assets, paying off creditors and paying former employees. Heather Wyman was given the final title of Chairman and CEO of Braniff Inc.



Pop-Up Braniff II Last employees.



The 90's

Braniff held auctions at their Kansas City, Orlando and D/FW offices. "BN Air" (later to become Braniff International Airlines, Inc.) buys over half of Braniff, Inc.'s assets.



A DEBACLE, Braniff International Airlines, Inc.
(1991-1992)



In 1991, Braniff was briefly ressurected with ten 727s painted in the "Ultra" Scheme and 1965 "BI logotype." This Braniff only lasted about a year.



Pop-Up Braniff III "Timetable"



If greed played a tiny role in Braniff Airways shutdown in 1982, and a bigger role in the shutdown of Braniff II, then it played THE STARRING role in the conception of "Braniff III." Jeffery Chodorow, with Scot Spencer, (both of whom bought Braniff II from Jay Pritzker) defrauded thousands of people and conned corporations left and right while burying the Braniff name firmly and finally into the mud.

The operation was set up at Dallas/Fort Worth in 1991. Braniff III leased a hanger, ironically, across from the old "Braniff Place" World Headquarters. They bought Austin-based "Emerald Airlines," which was bankrupt, and absorbed their three DC-9-14s.

With two original Braniff 727s, N406BN and N409BN, and eight leased 727s, Braniff III operated scheduled services from D/FW Airport and New York. (Chodorow was running the airline from his two New York restaurants). They painted one former-Emerald Air DC-9, and operated it on Nassau flights. At least 800 employees (perhaps over 1,000) worked for Braniff III, mostly former Braniff employees from Braniff Airways or Braniff, Inc.

Chodorow quickly put Braniff into bankruptsy in 1992 making off with millions. He was jailed for a short period, but his pal Scot Spencer got a longer sentence. Chodorow was involved in the NBC series, "The Restaurant," in 2002, which is bringing him more publicity than he wanted.

"In 1996, Jeffrey Chodorow, former Braniff International Airlines owner and board chairman pleaded guilty to two felony counts that charged him with impeding the Transportation Department's airline continuing fitness program and obstructing enforcement of aviation statutes. Chodorow received four months in jail and four years of supervised release for comparable offenses. Chodorow was ordered to pay $1.25 million in restitution to the estate, plus a $40,000 fine. Chodorow was accused of concealing the continuing involvement of Braniff executive Scot Spencer in the management of the airline, after the DOT banned Spencer from the company. Braniff ceased operations in 1992 and left 20,000 passengers without transportation and lost more than $1 million in ticket payments, and banks and other creditors were out $14 million. He only spent FOUR months in jail because he claimed his 10-year-old son (who allegedly had "Tourettes Syndrom") could not live without him."

They also tried to sell the remains to a fledgling carrier named "Skybus" in 1992. "Skybus" was the brain-child of a former Pan American pilot. The New York Times Article from 1992:

"August 12, 1992
COMPANY NEWS; SKYBUS PRESIDENT WILL MAKE BID FOR BRANIFF AIRLINES
James Dent, president of Skybus, which has yet to put a plane in the sky, said yesterday that he would bid $825,000 for Braniff Airlines. Mr. Dent said he intended to use Braniff's operating certificate to fly a low-cost, no-frills shuttle between Florida and New York. Skybus will offer a $99 one-way fare with no reservations. Mr. Dent, a former Pan American World Airways pilot, said he was awaiting assurances from the Federal Aviation Administration and the Transportation Department that the certificate was current and usable. Skybus, formed in February, includes 100 primary investors that include former employees from Pan Am, Eastern and Midway. To get Skybus up and flying will take an additional $1.5 million, Mr. Dent said. Last week, a New York entrepreneur, John Catsimatidis, who owns Capitol Air Express, offered $750,000 for Braniff. The Federal Bankruptcy Court in New York gave Mr. Dent until today to make his bid. Braniff stopped flying last month, saying that fare wars destroyed its business.

The bid was never placed, and "Skybus" never took off.

Braniff International Airlines, Inc. should have never happened...at least not with Chodorow and Spencer "Minding the Store."

A reader of the Braniff Pages, "Pastel Jet," sent us the full legal story (23 pages) on "The Smoking Gun" website.

Click here to read about the slimebags who sullied Braniff's name.

Irma Ellis, who had worked for all three Braniffs became the liquidation officer for Braniff III. The name "Braniff," its logos, servicemarks, paint schemes and trademarks were aquired by a trust in New York where it it resides today.

Bill Jackson is the first person to set up a website devoted to Braniff in 1995. However, he goes missing in 1997, and has not updated his page since.

"The Braniff Pages" goes on-line on September, 1998 at the request of John Paul Braniff, Sr. It is redesigned on January 1, 1999 with a complete history from 1927-1992.

In December, 1999, two more Braniff sites go up. One run out of New York City, and the other by Carlos Yudica in Miami.

2000 and beyond...

In March 2001, the FIRST annual Braniff reunion (for all departments) was held at Lonesome Dove Ranch North of D/FW. Larry Hutton, Roland Upton and Joe Mitchell set up the event. The turnout was over 600, and it was aired on the 6pm news.

In the Spring of 2001, a non-profit employee database website reached "up and running" status with pictures from the 2001 Braniff Reunion. In August of 2001, "The Braniff Pages" celebrated its 4 year anniversary. (Many thanks to the hundreds and thousands of people who have made it a success!)



On September 11th 2001 THE WORST use of commercial aviation took place. Islamic Terrorists seized two trans-continental Boeing 767s from United and American and flew them into the "Twin Towers" of "The World Trade Center" killing all passengers, crew, occupants of The trade Center and hundreds of valiant Police and Firefighters.

On the same day, two more aircraft were hijacked. An American B757 was crashed into the Pentagon in Washington, D.C., and a United B757 was hijacked over Ohio and crashed near Pittsburgh. The same Islamic Terrorist Group linked to the middle east caused these incidents as well.

September 2001, Harding Luther Lawrence (Braniff president 1965-1980) was inducted into the Oklahoma Aviation Hall of Fame.

Lawrence was born in Oklahoma.

- 16 January 2002, Controversial Ex-President Harding L. Lawrence dies at his multi-million dollar Villa on the Exclusive Island of Mustique. See story below...




Personal Photo from Martha Leonard "Pat" Zahrt
Harding is in the middle leaning over

Ex-Braniff President Harding L. Lawrence dies.

When Harding L. Lawrence took over Braniff in 1965, he changed the airline, and perhaps, the airline industry itself forever.

Mr. Lawrence, who influenced Braniff for 15 years, died on the 16th of January at his Villa on the Very Private Island of Mustique. He was laid to rest on the Island on the following Sunday with only close family in attendance.

Lawrence was brought in to Braniff in 1965 after Troy Post of "GreatAmerica Corporation" bought the airline. He resigned in 1980, after economic pressures and mounting debt.

Some comments from our readers on Mr. Lawrence:

"THE 20th century visionary of style and class for commercial aviation,worldwide. It was a distinct privilege to serve as an officer with Harding during the mid and late 70's. He defined , demanded, and delivered "customer service " like no Airline before or since. We were all proud to be identified with his standards for our airline, if not always with his methods of instruction!

I was with Braniff from 1973 thru 1979 , beginning as Director, Marketing Analysis and completing my tenure as Staff Vice President, Market Planning. Those 7 years proved to be the best learning experience of my 32 year aviation career."

-David Stamey
-Braniff Vice President
-1973-1979

"Small, stodgy and poorly run are fightin' words to most Braniff aficionados as the Dallas based carrier was an International Carrier with consistent profits pre-Harding Lawerence.

But Harding gave us Flying Colors, Pucci Uniforms, the infamous Air Strip, The Concorde, Braniff World Headquarters at DFW, Fat Albert, the Calders and more than anything else, STYLE!

While he turned the aviation industry upside down, Harding also built the coffin that Braniif was placed into by overexpansion and some rather questionable accounting procedures that eventually led to bankruptcy. It is said that during the initial days of deregulation if someone told Harding Lawerence to go to hell, he'd file a route application!

So long to a true industry pioneer who leaves this world a little more colorful by his contributions!"

-R.T. Simpson
-Phoenix, AZ

Thanks to Business Analyst and Reporter David Johnson for letting us know!

- 12 May 2002, The 2nd Braniff Reunion took place at Lonesome Dove Ranch. Hundreds of ex-employees gathered for the 20th Anniversary of Braniff's First shutdown in 1982. Despite that sad memory, The Braniff Family lives on and continued to celebrate that day.

Scot Spencer is still up to no good as of 2005

Click Here for the latest on "The Braniff Felon"

FOR 2003-2006 BRANIFF EVENTS, SEE OUR MAINPAGE or THE B-LINER PAGE!!!

Former Braniff VP Harry McKillop gets Bush Award



Harry McKillop (Braniff 1966-1980) taken at his office in Plano 2007 by Juan Garcia

If you ask people who worked with Harry McKillop at "Exchange Park" in the 1960s and 70s, many of them don't have kind words.

However, the man who helped Ross Perot on "The Peace on Earth" missions and was a principal in the Flight 352 Dawson Electra Crash was recognized during a ceremony aboard Air Force One in Waco, Texas where President Bush awarded him the Department of Defense Medal for Exceptional Public Service.

"He could perform miracles," said Sharon Holman, who was a secretary to Mr. Perot and was on a plane with the wives. "He was like a magician, pulling rabbits out of the hat when there weren't even hats."

Mr. McKillop said his low profile has helped him stay under the radar and work around governments – even his own – when it made sense.

"You begin to see the frustrations in the bureaucracy and going through channels," he said. "I picked up an appetite for seeing holes. I figured as an individual effort, we could get a lot further," - Harry McKillop

McKillop moved quickly up the chain at Braniff from Cargo to Head of European Operations in the late 70s. (He might also have been a director of "International Forwarding" in Houston). He left Braniff along with Harding Lawrence in 1980, and took up a job at Pan Am with former Braniff Alums C. Ed Acker, John Casey, Russell Thayer and Mary Wells-Lawrence. Alegedly performing "humanitarian missions" along the way.

After Pan Am went bust, he became Perot's "right hand man" which is a post he holds to this day.

Some of his "humanitarian missions" have taken him to Vietnam, Laos, Cambodia, China, Kosovo, Russia, Peru and Iraq.

His wife, Rebecca McKillop is ironically a Pilot for American Airlines where she has been trained on flight simulators by a former Braniff Pilot.

Senator Kay Bailey Hutchinson, who is the chairperson of The Frontiers of Flight Museum at Love Field, along with U.S. Rep. Sam Johnson, R-Plano nominated Mckillop for the D.O.D. award.

McKillop standing by Bulkhead (appropriately where Cargo was stored) on a Braniff 707-327C in 1969 (Perot Systems)

April 1968 B-Liner Article on Harry McKillop at Cargo Dinner by Pat Zahrt:

A few weeks before the Dawson Crash

More on Harry here: Full O' Irish spirit

McKillop and Ross Perot's Friend MURPHY MARTIN DIES

By JOE SIMNACHER / The Dallas Morning News


He did numerous stints at WFAA-TV (Channel 8) in Dallas and ABC network television and radio in New York.

He covered the assassination of President John F. Kennedy and the trial of Jack Ruby, who shot Lee Harvey Oswald, presumed assassin of John F. Kennedy. He also worked with Ross Perot to improve the plight of American POWs and MIAs during the Vietnam War, and he directed the Oak Cliff Chamber of Commerce.

Martin died Thursday night, hours before his 83rd birthday, of complications of heart disease at UT Southwestern University Hospital.

"There is nothing like the news business," Martin said in a 2001 interview for the Oral History Collection at the The Sixth Floor Museum at Dealey Plaza.

He was born on the Fourth of July 1925 in Groveton, Texas, south of Lufkin, where he graduated from high school in 1942.

He was introduced to the idea of a career in radio one evening after graduating from high school. He was hanging out in downtown Lufkin, when the owner of the local radio station asked him to fill in for the on-duty announcer he had just fired.

The emergency duty led to his first broadcast job, paying $27.50 for a 60-hour week. A neck injury prevented Martin from joining the military during World War II.

He attended North Texas State College, now the University of North Texas, on a partial scholarship, playing saxophone in a dance band.

He majored in journalism, was sports editor for the student newspaper and did some football play by play for the campus radio station.

Martin married during his junior year and became a traveling salesman in Kansas, Missouri and Nebraska for a Denton lingerie and sleepwear company.

In March 1949, he returned to Lufkin to be sports director and commercial manager at the facility his former radio station employer was building.

Martin called high school football games for Magnolia Petroleum Co., which held the broadcast rights. That included six years of Texas high school playoffs.

In August 1955, he was the first anchor for Lufkin's new television station, KTRE, where he was also sales manager and director of news and sports.

In 1959, he auditioned to be an announcer for the Baltimore Orioles. On a trip to New York as one of five finalists, he visited ABC Sports, where an executive urged him to see Mike Shapiro, manager of WFAA-TV, about a job in the Dallas market.

In 1961, Martin joined WFAA's AM radio unit until a position opened to anchor the evening television newscasts.

In February 1963, he was hired by ABC to anchor the network's late-night news program. His network career included being a pool reporter on the Gemini spaceflights and covering the New York visit of Pope Paul VI. He also anchored coverage of the 1964 Republican and Democratic national conventions.

On Nov. 22, 1963, Martin had just arrived at work to prepare for his late-night news program when his mother-in-law called from Texas to tell him that President Kennedy had been shot.

Martin spent the rest of his day in New York reporting on the assassination, calling Dallas sources by telephone. He was the ABC anchor on the story in New York the rest of that week. Murphy Martin.

He covered Oswald's graveside service in Dallas the next week and in 1964 returned to Dallas to cover Ruby's trial, flying back to New York to do weekend radio newscasts.

In 1967, Martin became anchor of WFAA's 6 and 10 p.m. newscasts. He also was head of the station's documentary production and special projects department.

Martin also hosted a Sunday program on Channel 8, "Face to Face with Murphy Martin," on which he interviewed such people as Robert Oswald, who had written a book about his brother.

In 1970, Martin left Channel 8 to work for Ross Perot as president of United We Stand, his organization to assist Americans who were prisoners of war or missing in action in Southeast Asia.

He worked for Channel 8 again from 1972 to 1975.

In 1977, Martin became executive vice president of the Oak Cliff Chamber of Commerce, a post he held until 1980.

His career included being pre-game and halftime announcer for Dallas Cowboys home games.

"That was fun," he said in his oral history, "and I saw a lot of things happen, and it got me a Super Bowl ring I never could get another way."

Martin is survived by his wife of 45 years, Joyce Martin of Dallas; a son, Mike Martin of Dallas; two grandchildren; and four great-grandchildren.

Ms. Martin said her husband's love for his work lasted throughout his career.

"He did always say, 'There never was a day that I didn't want to get up and go to work,' " she said.

She remembered him as "a man of integrity – that's for sure – a kind and compassionate man."

His signature sign-off:

"That's my time; thank you for yours."

Martin was involved in The "Peace on Earth" Charter. And was a spokesman for Braniff through the Lawerence years.

Visit our "links" page for more history.


This Photo, taken by National Geographic, sums up my feelings for Braniff.

We, like the man in the shadows, are observers "through the glass" of time looking at this once great power of aviation. ("747 Braniff Place" pictured)

We can no longer fly Braniff, but we wish we could.
Braniff's logo 84-89 shown on a 727-200.
Braniff's 1984 President William Slattery
Braniff's D/FW Airport Operations Center in 1984.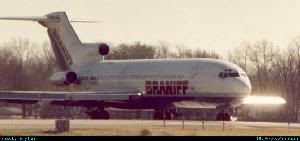 Braniff 727-200 ready for take-off.
© 2001 Terry Hale

Braniff 737-200 N4518W.
Acquired from Polaris in 1987.
This is a former Western Aircraft
© 2001 Joe H. Mitchell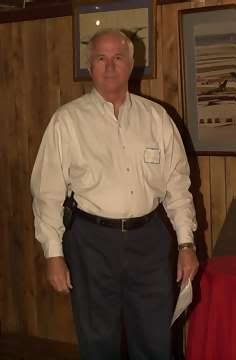 Joe H. Mitchell
Signed on with Braniff in 1966
Joe served as President of two BIC clubs.
He also was one of the last five employees.
Picture taken at the Braniff 2001 Reunion
Photo via Carrie and Carl Shea
Joe is now a Director of
thebranifffamily.org
© 2001 Joe H. Mitchell
BAC-111 N1544
Another photo with "express" removed.
© 2001 Frank Schaefer
BAC-111 in Braniff II Colours
From 1984-89, Braniff leased several
BAC-111's...a few had been originally
delivered to Braniff Airways in the 60s,
but sold off by Lawrence in favour of the 727 in the early 1970s
Photo © 2001 Airliners.net


Braniff 737 acquired from Air California via American.
It is painted in an expermental paint scheme.
This was nicknamed "The Reebok" scheme
because it looked like a tennis shoe.
Notice "BI" is back on the tail
This was applied in Braniff II's last year, 1989.
Photo Braniff, Inc. and Matt McPhee
Braniff Express Saab 340B
Braniff Express, connected from
Kansas City.
The Saab is also sporting
The "Reebok" scheme.
© 2001 Plane Views Postcards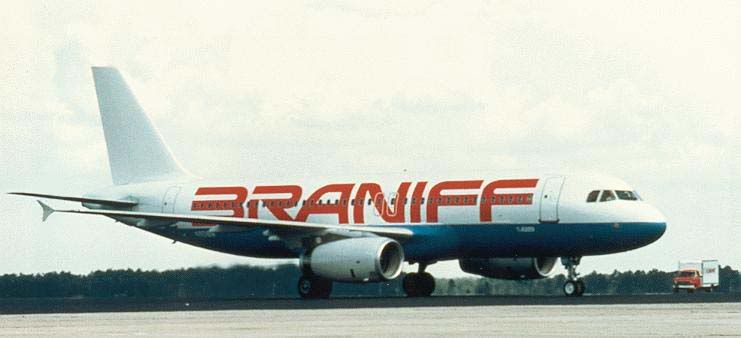 Braniff Airbus 320 N901BN
In 1989, Braniff agreed to lease 50 A320s
from GPA Leasing in Ireland.
However this aircraft and one other
was ever flown prior to the Sept. 89 shutdown.
Five more were delivered after Sept. 89
© 2001 "The Braniff Pages" via Braniff, Inc.
Braniff Airbus 320 N901BN
Mothballed with N910GP and N911GP
After the Sept, 1989 shutdown
all A320s were grounded.
However, Braniff continued to fly
charters until Dec. using 727s
© 2001 AirNikon
Braniff Airbus 320 N901BN
Model made by Jet-X Models San Mateo, California
© 2005 Jet-X and "The Braniff Pages"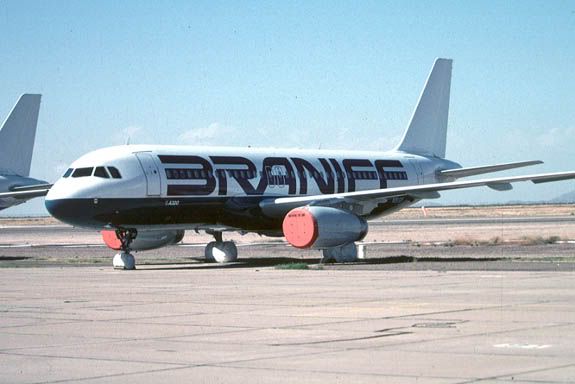 Braniff Airbus 320 N911GP
Mothballed In Marana
© 2001 AirNikon
Former Braniff Airbus 320 N901BN
Picture taken by a US Airways employee in 2006 during a heavy check
America West aquired N901BN and just painted over the Braniff titles
US Airways has aquired the former America West plane and is planning to repaint it
During the paint removal in January 2006, they found the original Braniff titles.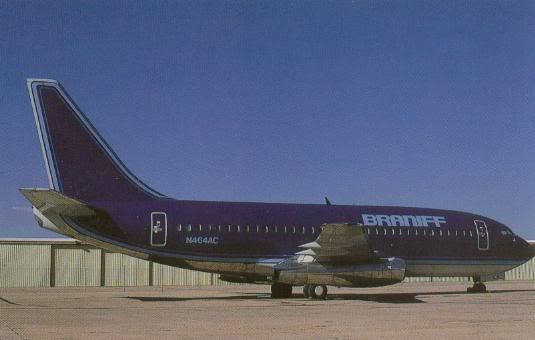 Braniff 737-100.
Acquired from American Airlines/Air California.
This was one of the very first planes
re-painted in the 1977 "Ultra" Scheme.

Braniff 727-200 N460BN.
painted in the late 70's "Perseus Green ultra" scheme.
Braniff started to re-paint its fleet
in the "ultra" scheme colors in 1989.
This plane was never flown with the "new"
old colours.
It is pictured in Smyrna, TN.
© 2001 Air Nikon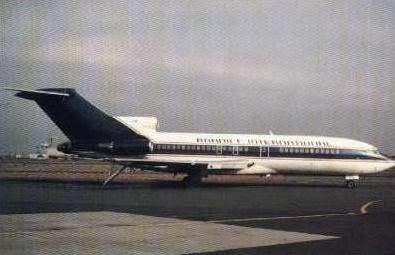 Braniff III 727-100 Series
(Earlier version of the 727)
The short-lived Braniff III
leased any plane they could.
This unknown 727 is painted
with original 1965 Braniff titles
which Braniff III brought back in 1991.
Unknown photographer

Braniff III DC-9-14
Painted in a solid color blue
Braniff III bought Austin based
"Emerald Air" and its three DC-9s.
This DC-9 was the only one put in service.
It was sold to a Mexican carrier in 1993.
Unknown photographer

Another View of
Braniff III's DC-9-14
This DC-9 was the only one put in service.
This photo was probably taken in the Dominican Republic.
Unknown photographer
(Notice the Lockheed Electra Tail to the left!)
Braniff 727-200 N406BN.
Re-Painted in "Perseus Green Ultra"
for Braniff III.
This plane served all three Braniffs
Picture taken at D/FW airport in 1991 at dusk.
© 1991, 2001 Brooke D. Watts


The photos on this page are provided by: Joe H. Mitchell, Irma (Jenson) Ellis, Heather Wyman, Pat Zahrt, George W. Cearley Jr., Boeing/McDonnell Douglas Aircraft Co., British Aerospace Coporation (BAC-BAE), The Dallas Historical Society, UTD, The "Clipped B's", John Paul Braniff, Sr., Mo McMahanon, John McFarlane, Wanda Brown, Diane Muse, C.R. Smith, Chuck Beard, Marv and Carol Degroote, The Braniff Family, thebranifffamily.org, Carl and Carrie Shea and Watts Communications' Private Braniff Collection.